Roasted Asparagus in Dijon Vinaigrette with Aged Gouda shavings
The Bellingham Herald printed a little blurb on my business back in 2008 and asked me for a recipe to feature as well. It was not quite spring at the time but I was already looking forward to asparagus, so this is what I sent them in anticipation. Lucky for us, spring is here now, along with the new season's local asparagus. This is a simple but tasty preparation I turn to often.
Start with:
2 lbs. fresh locally grown asparagus (I prefer to use medium to thick spears)
2 Tbsp. extra virgin olive oil
kosher salt and freshly ground pepper, to taste
Preheat the oven to 425 F. Snap off the tough root end from the asparagus and use a vegetable peeler to strip the outer skin from the bottom 3 to 4  inches of each spear. (An OXO peeler does a great job.) For appearances, line up the spears and slice just a bit – maybe 1/8 inch – to even up the snapped bottoms. Toss the asparagus in the oil, season with salt and pepper and spread them on a baking sheet in a single layer. Roast until hot and tender-crisp, about 8 to 12 minutes depending on thickness of your asparagus. (They should not be limp.) You might turn them once during roasting if you check on them midway, but it's not necessary.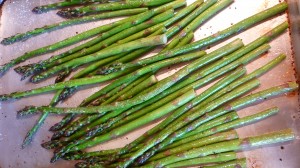 While asparagus is roasting, make the dressing:
1 tsp. finely minced shallot
½ tsp. Dijon mustard
¼ tsp. maple syrup
1 Tbs. good quality sherry vinegar or red wine vinegar
¼ cup good quality extra virgin olive oil
kosher salt and freshly ground black pepper, to taste
Whisk shallot, mustard, syrup and vinegar together in a small non-reactive bowl. Continue to whisk while adding olive oil in a smooth, steady stream to make an emulsion. Season with salt and pepper.
Assembly
1 Tbs. minced shallots
8 or so shards of aged hard cheese, such as Pleasant Valley Aged Gouda, Samish Bay Aged Montasio or Parmigiano Reggiano. Pull a vegetable peeler along the long edge of the cheese hunk to make paper-thin shards, about 2 or 3 inches long.
Remove asparagus from oven and toss with the vinaigrette and tablespoon of shallots. Place on a platter and arrange cheese on top of the spears. Alternatively, make four individual appetizer plates with two long cheese shards on each.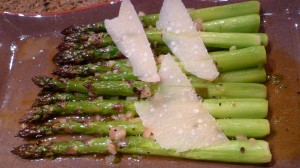 A note about the Parmigiano Reggiano in the photo: no, those white spots you see are not mold. They're actually a common characteristic of this fine aged cheese and develop naturally as it continues to age.