Custom Meal Plans and Prices

One plan.  One price. Yet enough delicious diversity to please many appetites.Think of it as your weekly CSA box whose contents have already been transformed into several tasty, nourishing meals!I've eliminated separate payments for groceries, service and taxes. And I've done away with multiple menu levels that were a bit cumbersome and confusing.What hasn't changed is my long-standing commitment to fresh, locally grown and organic ingredients. I still offer changing weekly menus that showcase the bounty of our region and the variety of the seasons. And I still deliver farm-fresh meals to your door.Couples and Families Every dish will serve two adults generously, often with ample leftovers to accommodate families with small children. Weekly delivery provides most meals for the week. You can easily supplement with homemade dishes of your own or select one or two Cuisine Claire Add-ons, for additional meals or to feed a larger group. Packaging is recyclable, reusable and/or compostable and meals come with clear instructions for storing, reheating and serving.Le Petit Menu is available for elderly persons with smaller appetites. (Singles like this option, too.) The selection of dishes is essentially the same, but with reduced portion size. Low-sodium, low-sugar, low-fat requests accommodated with reasonable notice. This is a great way to make sure mom or dad is eating well.Delivery is free to the following zip codes in Bellingham and north Skagit County: 98225, 98226 (east of the Nooksack River), 98229, 98232, 98233, 98273 (Mt. Vernon), 98284 (north sections).Menus are posted one week in advance. (Some small changes may occur depending on  availability of planned ingredients and to enjoy the freshest offerings from local farms and fishers.) Reservations taken by email, phone and regular mail. Confirm reservations with payment by check, due by Friday, for delivery the following Tuesday. (Online payment coming soon, your patience is appreciated.)*Weekly: $160*Monthly (i.e. 4-week subscription):  $ 595 *Le Petit Menu: $105 weekly*Le Petit Menu, monthly: $395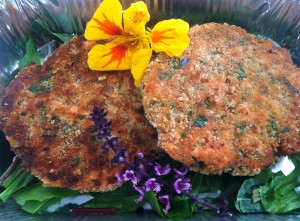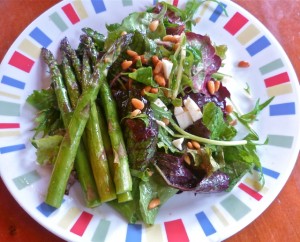 Weekly delivery is between 4:30 pm and 6:00 pm on Tuesday. There is a one-time returnable deposit of $30 for cooler and ice blocks, for customers who are not home to receive their delivery. Service resumes Tuesday, September 3 (menu to be posted Tuesday, August 27, confirm order by Friday, August 30).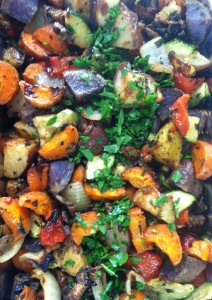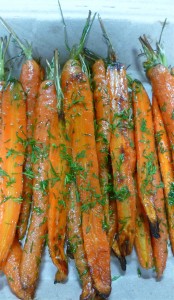 SAMPLE LATE SUMMER MENU Entrees and sides are listed as suggested serving pairs; however you'll be delighted at the flexibility to customize meals according to your taste. After all, foods grown in the same place at the same time are, by nature, deliciously compatible.  "If it grows together, it goes together!" 
Locally pastured organic chicken – brined, butterflied, marinated and roasted. Tender moist white and dark meat under crispy golden-brown skin.
Roasted root vegetable medley: purple, red and Yukon gold potatoes with sweet carrots, tossed in olive oil, Dijon mustard and fresh thyme leaves.
Wild king salmon-Oregon Bay shrimp cakes with remoulade sauce (Fish cakes can be frozen)
Whatcom Summer Succatash: saute of corn, sliced Romano beans, diced zucchini, slow-roasted tomatoes, leeks, fresh basil.
Chard, leek and gouda frittata with roasted red pepper coulis.
Gently steamed green beans tossed in hazelnut gremolata.
My signature pasta: fresh fettuccine from B'ham Pasta Co., tossed with a generous chiffonade of fresh leafy greens, sauteed cottage bacon, aged gouda, toasted pine nuts et al. (Gluten-free option available)
Slow-roasted tomato and sweet red pepper soup. A velvety puree to serve hot or chilled. (Can be frozen.)
EAT WELL, EAT FRESH, EAT LOCAL . . . AT HOME
Pure ingredients: no pesticides,  hormones,  GMOs, or  other unsustainable practices
Seasonal ingredients from regional and local farms, fishers and producers
Compostable and recyclable packaging
Relax: no meal planning,  shopping, cooking, clean-up or driving
Save money: no gas, parking, babysitting or waiter tips
Call Cuisine Claire, to support your healthy lifestyle and help tame your busy schedule.
Feedback from happy clients:
"Thank you so much for your seamless service and delicious meals. It has been a true pleasure." – Naomi B.
"We loved every minute of our personal chef experience." – Pete and Linda C.
"(My family and friends) loved the meals you made and I loved the break from cooking." -Sue R.
"…thank you again for all the amazing food in my fridge and freezer! It is pure luxury to come home and not have to think about cooking under a deadline." – Laurie C.
"YUM!" – Jane C.           
"Yes! Really good!" – Holly H.
"The meals are great. We're enjoying everything. It's so good we can't  believe it's all low-fat!"  –Dan B.
2012-13 Buy Local Coupon Book: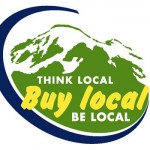 Look for my $30-off coupon.  Buy Local coupon books are full of great deals and are available for $12 at the Community Food Coop, Village Books and other area businesses.