Henry's Humdingers – A Honey of a Product
Oh man, I found a new local product to love. Well, it's new to me anyway: Henry's Humdingers of Deming, which I sampled for the first time yesterday. Am I late to this particular party or do I have the added pleasure of introducing you to this great stuff?
Young entrepreneur Henry Miller launched his business a few years years ago (at the ripe old age of 12), with a line of three different spiced raw local honeys he calls the "Stinger" collection. His mom helped develop the special flavor blends, lending what you might call adult sophistication to youthful sweetness. A really cool thing about this kid's business: he donates a percentage of profits to The Foundation for the Preservation of Honey Bees. In fact, it was learning about the crisis of bees disappearing that motivated him to start a hive and business in the first place.
These will be fun to experiment with in the kitchen. Just yesterday I drizzled some Phoebe's Fireball — named for a young cousin as well as the chipotle pepper and cinnamon Henry mixes in — to glaze the beautiful Copper River sockeye filets I'd pan-seared and finished in the oven. It made a delicious pairing.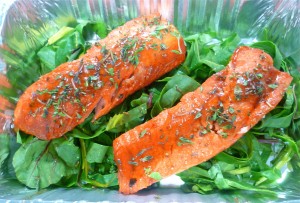 Henry's story is fun to read. Check out his site, where he tells it best:  www.henryshumdingers.com