Arugula and snap peas with fresh ricotta
Here's a light lunch that came together quickly.
Every so often I like to make fresh ricotta. It's incredibly easy to make, the result is infinitely more delicious than the store-bought stuff, and the whey by-product is a great buttermilk substitute for baking. I use Jackie's raw Jersey milk, but you can use pasteurized milk as well. (I follow "Cheese Queen" Ricki Carroll's method, posted separately.)
Anyway, with a quiet day at home before me, I prepared a batch in the late morning, knowing it practically makes itself and I could continue with the miscellaneous paperwork on my desk while it simmered. By the time it had strained — just about 30 minutes because I prefer ricotta moist — I was thinking about lunch and all the wonderful vegetables I'd picked up at the market.
This is where my hunger and a little inspiration led me: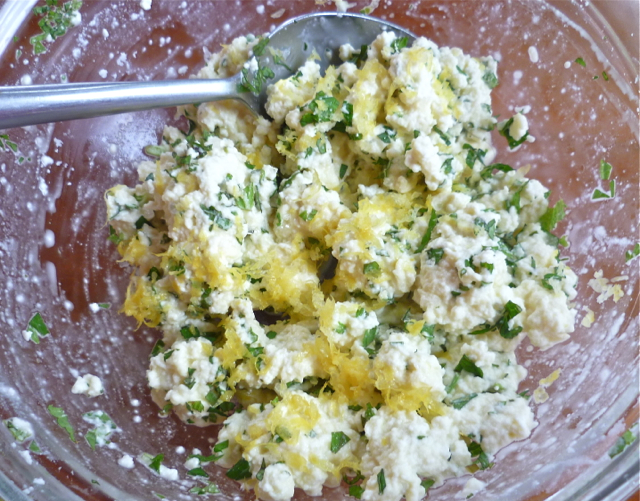 First, I placed a handful of baby arugula on my plate, then tossed the leaves a couple of times after drizzling with Holmquist Hazelnut oil and a squeeze of fresh lemon juice. The leafy greens were  joined on the plate by barely steamed sugar snap and snow peas, also lightly coated with hazelnut oil. Next,  a scoop of my just-made ricotta (still slightly warm), with chopped fresh mint from my yard and lemon zest mixed in. And finally, a sprinkling of fleur de sel.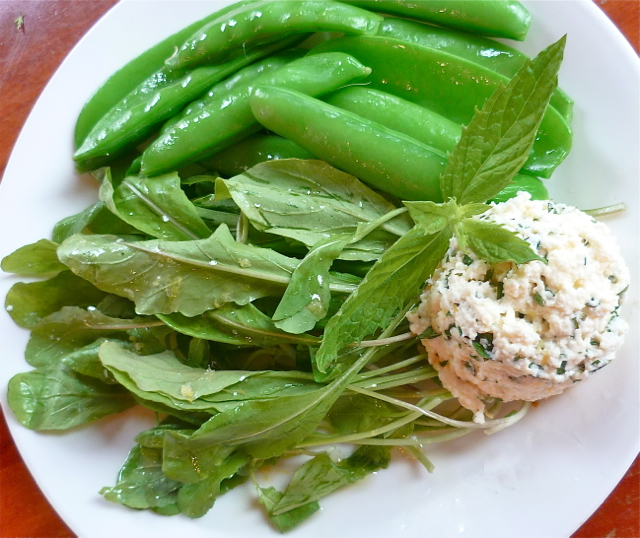 Half-way through my salad, I remembered I had a bag of Holmquist toasted Ennis hazelnuts and crushed a small handful over the remains on my plate. With a slice of toasted bakery bread, it made for a very satisfying spring lunch.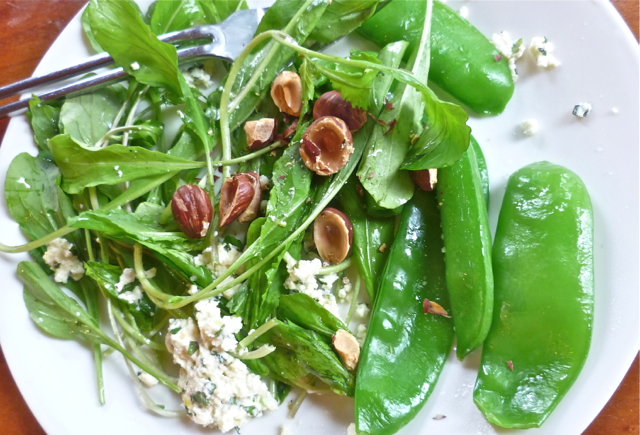 Thanks to Roslyn at Rabbit Fields Farm for growing the peas and arugula.